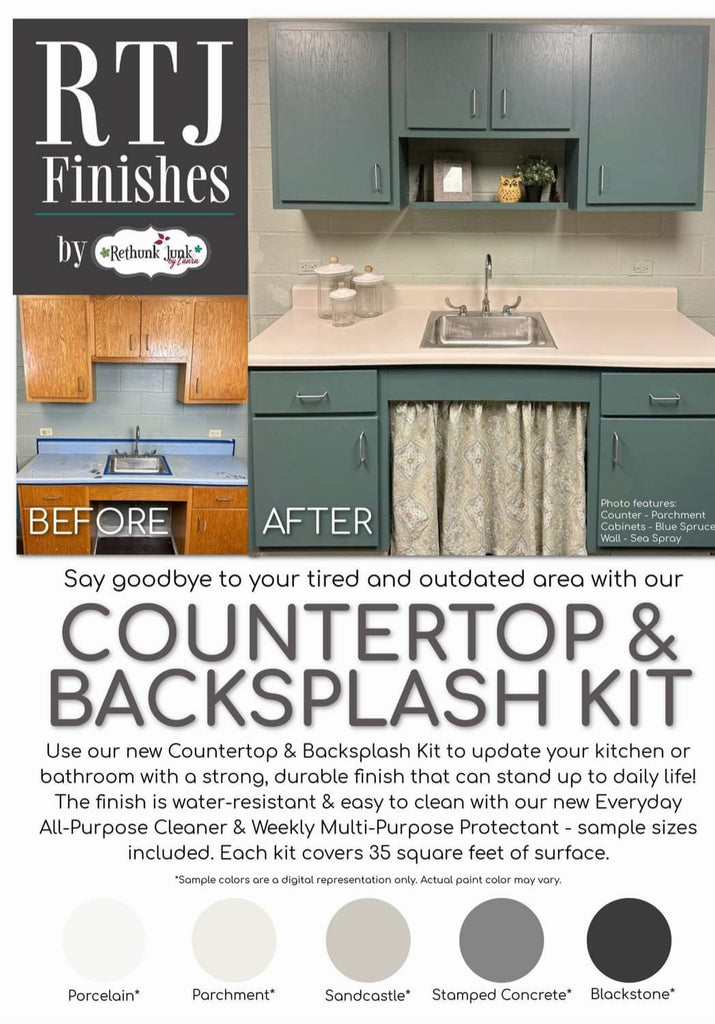 Rethunk Junk Counter Top and Backsplash Paint Kit
Say goodbye to that dated countertop or backsplash finish with our new Countertop & Backsplash Kit! Each kit includes one 16oz Paint , one 12oz Clear Coat Sealer, 2 paint brushes, 1 pair of gloves, 1 sanding block, and 4oz samples of our two new cleaning products – perfect for counters, cabinets, and just about every hard surface in your house! Select from one of our five colors (Porcelain, Parchment, Sandcastle, Stamped Concrete or Black Stone) and get started today!
Have an old countertop or backsplash in need of an update? Our new Countertop & Backsplash Kit is a great, low-cost alternative for that expensive project! See all 5 colors available to transform your outdated space into one that you'll love!
Colors are matched for typical interior lighting situations and are representative of the color in indoor lighting. Actual paint color may vary.
Colors available:
Porcelain - a true white
Parchment - antique white 
Sandcastle - neutral tan
Stamped Concrete - lovely neutral gray
Blackstone - antique white 
---
More from this collection